I should be posting more.  I have  new toysaccesories I'm playing with and want to share my fun.  Today I'm excited about my recent purchase of the Pan Pastel Sofft Tools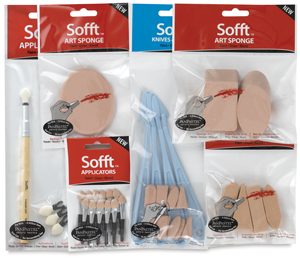 Yeah, I bought the big pack. I have had none of these and no idea if they were worth my time or $$. But I do like to experiment and having all at once meant having lots to play with.  My sample is cotton/polyester loose weave with a 60's print but 2012 colors:
Actually, I like the fabric, color and print.  I made a sleeveless blouse for summer and had this scrap left over.
I tested 1 of each the tools above.  Because contolled application  is my issue, I didn't spent much time with the large sponges. Just kinda of swipe pan with color; swipe fabric with sponge. As expected, they lay down large swathes of color quite nicely.  More importantly, the sponge tissue lived up to its reputation.  Each of the tools (large and small) easily pick up color from the pan and spread onto the surface.  Finally, the promise of no dust was fulfilled.  I've been using brushes. While not as messy a chalk sticks, there was still appreciable dust on top of each pan.  No matter how gently I touched the top of the pan. No matter whether I stroked or dabbed. By the end of a session, there was considerable dust not on my work but in the pan. With the Sofft Tools NO DUST is left behind.
Onto the Samples.  #1 is the printed fabric without any pastel application. Flower #2 has pan pastel gold and Ox Blood Tint, applied using the soft tools.  #3 was painted with the  1/8″ flat brush and a 3/8″ angled brushes I picked up with this order.  I dipped the brushes into water. Shook them off. Stroked the Pan Pastel and then the fabric. I still want more control but I'd be happy to use this in place of acrylic paint. My only objection being that I'm sure to spill an open container of water — it's just a matter of time.
I'm already working on a project. But this is something that takes time. Lots of time.